What is the Best Workflow for a Print & Cut Application?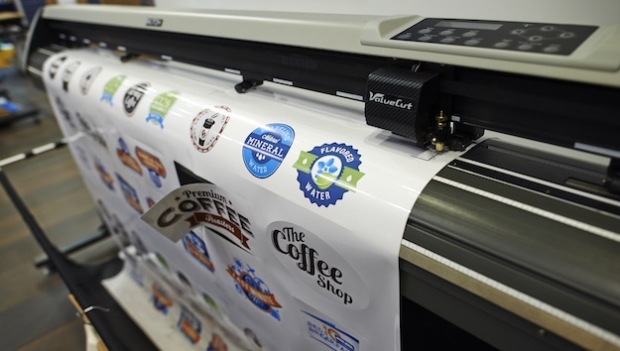 Ever since the first wide-format printer was released, most sign shops saw the potential to create smaller images that could be contour cut and made into decals or stickers for various applications. Print and cut projects can be made easy with a few careful considerations and thinking your project through from start to finish.
In this blog, we want to show you some of the things to consider when preparing for a print and cut application and give you some tips for getting the best workflow for a successful project.
Print and Cut Considerations
Before we give you some tips, let's define a few considerations to the print & cut workflow.
Print & Cut Equipment

In our opinion, a separate printer and cutter are a necessity. Most likely, many print & cut applications will need to be laminated. That means they will be removed from the printer, laminated and then contour cut. A separate cutter is good in this workflow. In addition, separate devices mean they can be used separately, you could continue to print while contour cutting.
The width of your printer will determine the width of the cutter you may want as well.
Be sure to choose the best ink type for your application, eco-solvent, UV-LED or others are used for different applications.

Media Considerations

They type of media you will use is important because the cutter you choose will have a limit on the thickness it can cut.
Media such as adhesive-backed textiles are fibrous, so choosing the right cutter and blade is important. The same would be true of card stock or vinyl.

Software Considerations

The design software should be capable of importing or opening many file types.
The software should be able to easily add and edit contour-cut and perf cut paths.
The software/RIP should be able to control the speed of the cutter, the pressure used and other factors related to cutting.
The software/RIP should be able to control color quality and output.
Print & Cut Tips and Workflow Using a MUTOH Printer
Below is a video/webinar on using the MUTOH printer in a print & cut workflow.
For more information about MUTOH wide format printers, click here.
Read More